SDS1302CFL - Siglent Digital Storage Oscilloscope, 300MHz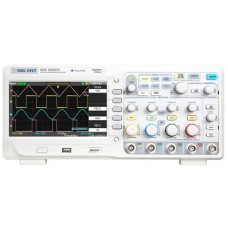 Features and Benefits
● The volume of the oscilloscope is cabinet and it is portable
● 7" Color TFT LCD display
● 2/4 channels, Bandwidth: 70MHz-300 MHz
● Single real-time sampling rate is:2GSa/s, Equivalent sampling rate is 50GSa/s.
● Memory depth is 24Kpts.
● Trigger types: Edge, Pulse, Video,Slope and Alternative
● Unique Digital Filter function and Waveform recorder function
● Auto measure thirty two parameters and support all measurement function.
● Two/Four groups'reference waveforms and twenty groups' capture
waveforms and twenty groups' setups internal save/recall function
and USB flash drive save/recall function.
● Cursor types: Manual mode, Track mode and Auto mode.
● Channel waveform and its FFT waveform display on split screen.
● Waveform Intensity and Grid Brightness can be adjusted.
● Menu display in the form of pop-up that in order to convenience users to use it.
● Rich Screen display styles: Classical, Modern, Tradition, Succinct.
● Multiple Language User Interface.
● Support Multilingual online help system
● Standard interface: Double USB Host; USB Device; LAN Port; Pass/Fail Out
Write a review
Your Name:
Your Review:
Note: HTML is not translated!
Rating:
Bad
Good
Enter the code in the box below: