SNA5002A - Siglent Vector Network Analyzer, 4.5 GHz, 2 ports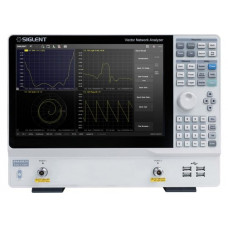 All products ship from Toronto, Canada by courier. Shipping is usually 1-10 days depending on your location in Canada. Shipping is free of charge. Orders received before 2:00pm (Mon-Fri) will be shipped on the same day (provided item is available in stock).
You can pay with all major credit cards. On our side, we use PayPal to process all credit card transactions. But on your side, it will be like any regular purchase. You do not need to create a PayPal account. From the shopping cart, simply select "PayPal / Credit Card", then select "Pay with a credit or Visa debit card".
Customer satisfaction guaranteed, or your money back. RCC Electronics is proudly Canadian. We have been selling the best test equipment since 1978.
Product Overview:
The SIGLENT SNA5000A series of Vector Network Analyzers have a frequency range of 9 kHz to 8.5 GHz, which support 2/4-ports scattering-parameter, differential-parameter, and time-domain parameter measurements. The SNA5000A series of VNAs are effective instrumentation for determining the Q-factor, bandwidth and insertion loss of a filter, They feature impedance conversion, movement of measurement plane, limit testing, ripple test, fixture simulation and adapter removal/insertion adjustments. The VNAs have five sweep types: Linear-Frequency mode, Log-Frequency mode, Power-Sweep mode, CW-Time mode and Segment-Sweep mode. The SNA5000A series VNAs also support scattering-parameter correction of SOLT, SOLR, TRL, Response and Enhanced Response for increased flexibility in R&D and manufacturing applications.
Main specifications:
 

SNA5002A

SNA5012A

SNA5004A

SNA5014A

Frequency range

9 kHz ~ 4.5 GHz

9 kHz ~ 8.5 GHz

9 kHz ~ 4.5 GHz

9 kHz ~ 8.5 GHz

Ports

2

2

4

4

Frequency resolution

1 Hz

Level resolution

0.05 dB

Range of IFBW

10 Hz ~ 3 MHz

Setting range of output level

-55 dBm ~ +10 dBm

Dynamic range

125 dB

Bias-Tees

Standard

Interface

LAN,USB Device,USB Host(USB-GPIB)

Remote control

SCPI/Labview/IVI based on USB-TMC/VXI-
11/Socket/Telnet/WebServer

Display

12.1-inch touch screen

Video output

HDMI

Types of calibration

Response calibration, Enhanced Response calibration, Full-one port
calibration, Full-two port calibration, Full-three port calibration, Full-four
port calibration, TRL calibration

Types of measurement

Scattering-parameter measurement, differential-parameter
measurement, receiver measurement, time-domain parameter
analysis, limit test, ripple test, impedance conversion, fixture
simulation, adapter removal/insertion,enhanced time-domain
parameter analysis(TDR)
Write a review
Your Name:
Your Review:
Note: HTML is not translated!
Rating:
Bad
Good
Enter the code in the box below: