SDS2204X HD - Siglent high res oscilloscope - 200 MHz, 4Ch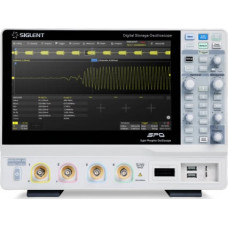 Price:
CAD 5,508.00
CAD 4,407.75
Special Promotion: Scope Analysis Bundle - Valid from Nov 1, 2023 to Dec 31, 2023
SDS2XHD-BND - Scope Analysis Bundle (rcce.com)
SDS2204X HD Digital Oscilloscope
200 MHz model
12-bit High Resolution
Record Length up to 200 Mpts
Waveform capture rate up to 500,000 wfm/s (Sequence mode)
Sampling rate up to 2 GSa/s (interleaving mode)
Large 10.1" TFT-LCD display with 1024 * 600 resolution
Serial bus triggering and decoder, supports protocols I2C, SPI, UART, CAN, LIN, CAN FD, FlexRay, I2S, MIL-STD-1553B, SENT and Manchester
Description
SIGLENT's SDS2000X HD series high-resolution digital storage oscilloscopes are based on 2 GSa/s, 12-bit Analog to Digital converters and front ends with excellent noise floor performance. They are available in bandwidths of 350 MHz, 200 MHz, and 100 MHz, have a maximum record length of 200 Mpts/ch, and display 4 analog channels + 16 digital channels mixed-signal analysis ability.
The SDS2000X HD series employs Siglent's SPO technology with a maximum waveform capture rate of up to 100,000 wfm/s (normal mode, up to 500,000 wfm/s in Sequence mode), 256-level intensity grading display function plus a color temperature display mode. It also employs an innovative digital trigger system with high sensitivity and low jitter. The trigger system supports multiple powerful triggering modes including serial bus triggering. Tools such as History waveform recording, Search and Navigate functions, Mask Test, Bode Plot, Power Analysis and Histogram allow for extended waveform records to be captured, stored, and analyzed. An impressive array of measurement and math capabilities, options for a 25 MHz arbitrary waveform generator, as well as serial decoding are also features of the SDS2000X HD.
Write a review
Your Name:
Your Review:
Note: HTML is not translated!
Rating:
Bad
Good
Enter the code in the box below: