Protrac - BAUR pin-pointing system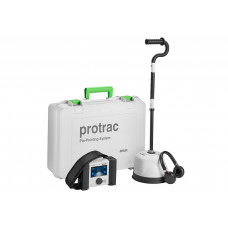 protrac®
Pin-pointing system
Fast and precise cable fault pin-pointing

- Unique operating convenience thanks to wireless Bluetooth® connections
- Precise 3D user guidance to the fault
- Excellent acoustic quality and range
- Saves time thanks to use of cable route data and the prelocated fault position from the BAUR Fault Location App
The BAUR protrac® pin-pointing system is used for the precise pin-pointing of
cable and cable sheath faults. Combining acoustic and electromagnetic fault
pin-pointing with sheath fault location in one system, it is ideal for universal
application.

Thanks to the use of the latest technologies, locating the exact fault position
with the protrac® is extremely fast and precise. The innovative two-level signal
processing concept permits a high degree of sensitivity and accuracy, and
maximum suppression of ambient noise.

The prepared measurement data is sent directly to the headphones and the CU
control unit via Bluetooth®. The wireless connection ensures greater convenience
and freedom of movement and dispenses with the need for cumbersome cables.
The measurement parameters are set automatically depending upon the
environmental conditions. As a result, and thanks to the intuitive operation of
the capacitive touchscreen, working with the protrac® is extremely simple and
convenient.
Write a review
Your Name:
Your Review:
Note: HTML is not translated!
Rating:
Bad
Good
Enter the code in the box below: