Protrac - BAUR pin-pointing system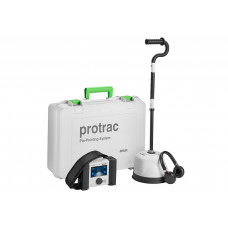 All products ship from Toronto, Canada by courier. Shipping is usually 1-5 days depending on your location in Canada. Shipping is free of charge. Orders received before 2:00pm (Mon-Fri) will be shipped on the same day (provided item is available in stock).
You can pay with all major credit cards. On our side, we use PayPal to process all credit card transactions. But on your side, it will be like any regular purchase. You do not need to create a PayPal account. From the shopping cart, simply select "PayPal / Credit Card", then select "Pay with a credit or Visa debit card".
Customer satisfaction guaranteed, or your money back. RCC Electronics is proudly Canadian. We have been selling the best test equipment since 1978.
protrac®
Pin-pointing system
Fast and precise cable fault pin-pointing

- Unique operating convenience thanks to wireless Bluetooth® connections
- Precise 3D user guidance to the fault
- Excellent acoustic quality and range
- Saves time thanks to use of cable route data and the prelocated fault position from the BAUR Fault Location App
The BAUR protrac® pin-pointing system is used for the precise pin-pointing of
cable and cable sheath faults. Combining acoustic and electromagnetic fault
pin-pointing with sheath fault location in one system, it is ideal for universal
application.

Thanks to the use of the latest technologies, locating the exact fault position
with the protrac® is extremely fast and precise. The innovative two-level signal
processing concept permits a high degree of sensitivity and accuracy, and
maximum suppression of ambient noise.

The prepared measurement data is sent directly to the headphones and the CU
control unit via Bluetooth®. The wireless connection ensures greater convenience
and freedom of movement and dispenses with the need for cumbersome cables.
The measurement parameters are set automatically depending upon the
environmental conditions. As a result, and thanks to the intuitive operation of
the capacitive touchscreen, working with the protrac® is extremely simple and
convenient.
Write a review
Your Name:
Your Review:
Note: HTML is not translated!
Rating:
Bad
Good
Enter the code in the box below: