SDS1102X - Siglent Digital Storage Oscilloscope, 100MHz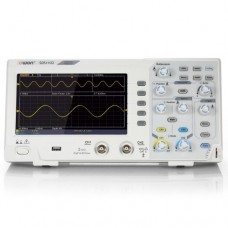 Product Overview
SIGLENT's new SDS1000X/SDS1000X+ Series Super Phosphor Oscilloscopes are available in two bandwidths, 100 MHz and 200 MHz, have a sampling rate of 1 GSa/s and a standard record length of 14 Mpts. The most commonly used functions can be accessed with its user-friendly one-button design.
Features and Benefits
• 200 MHz, 100 MHz bandwidth models Real-time sampling rate up to 1 GSa/s New generation of SPO technology
• Waveform capture rate up to 60,000 wfm/s (normal mode), and 400,000 wfm/s (sequence mode)
• Supports 256-level intensity grading and color temperature display
• Record length up to 14 Mpts
• Digital trigger system
• Intelligent trigger: Edge, Slope, Pulse Width, Window, Runt, Interval, Time out (Dropout), Pattern
• Serial bus triggering and decode, supports protocols IIC, SPI, UART, RS232, CAN, LIN
• Video trigger, supports HDTV
• Low background noise, supports 500μV / div to 10V / div voltage scales
• 10 types of one-button shortcuts, supports Auto Setup, Default, Cursors, Measure, Roll, History, Display/Persist, Clear Sweep, Zoom and Print
• Segmented acquisition (Sequence) mode, dividing the maximum record length into multiple segments (up to 80,000), according to trigger conditions set by the user, with a very small dead time segment to capture the qualifying event.
• History waveform record (History) function, the maximum recorded waveform length is 80,000 frames.
• Automatic measurement function on 37 parameters, supports Statistics, Gating measurement, Math measurement, History measurement and Ref measurement.
• Math function (FFT, addition, subtraction, multiplication, division, integration, differential, square root)
• High Speed hardware based Pass/ Fail function
Write a review
Your Name:
Your Review:
Note: HTML is not translated!
Rating:
Bad
Good
Enter the code in the box below: